A Scriptural Rosary Wake Service — the Agony in the Garden
     This is a simple, "Scriptural Rosary" for one decade of the Sorrowful Mysteries: the Agony in the Garden. It is meant for a wake service, takes only 10 minutes, and is appropriate for mixed company–Catholics and non-Catholics.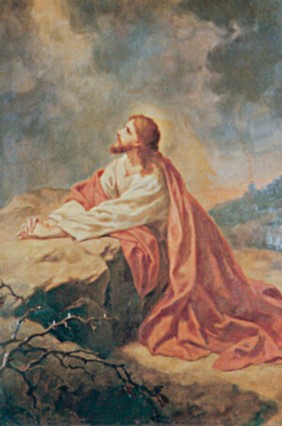 The leader should introduce themselves, describe who Jesus is, his cross, who Mary is and how she was the only one who participated in the Divine purpose of what Jesus had to suffer. Then, the leader should elaborate on what we mean by having "a Cross" in our own lives as a result of God's providential love.
    The sections in italics are not meant to be read aloud. People will get bored and read them on their own either before, during, or after the service. It concludes with the Fatima Prayer and offers information about the Fatima miracle, trying to give people something demonstrable about Catholic belief, to really grab them.
Wake Service–The Sorrowful Mysteries of the Rosary (PDF version)
Wake Service–The Sorrowful Mysteries of the Rosary (MS Word document)